Frequently Asked Questions
What are the benefits of staying at Hotel Roslyn?
---
At Hotel Roslyn we understand what makes a hotel stay right for you, our guests. We make it our business to provide service of the highest quality and go above and beyond to exceed your expectations.

We know that a comfortable bed, a clean spacious living space and close proximity to area attractions and activities are what makes a relaxing getaway.

Come to Roslyn and experience all it has to offer, come back to Hotel Roslyn for our commitment to quality.
---
How do I book a room?
---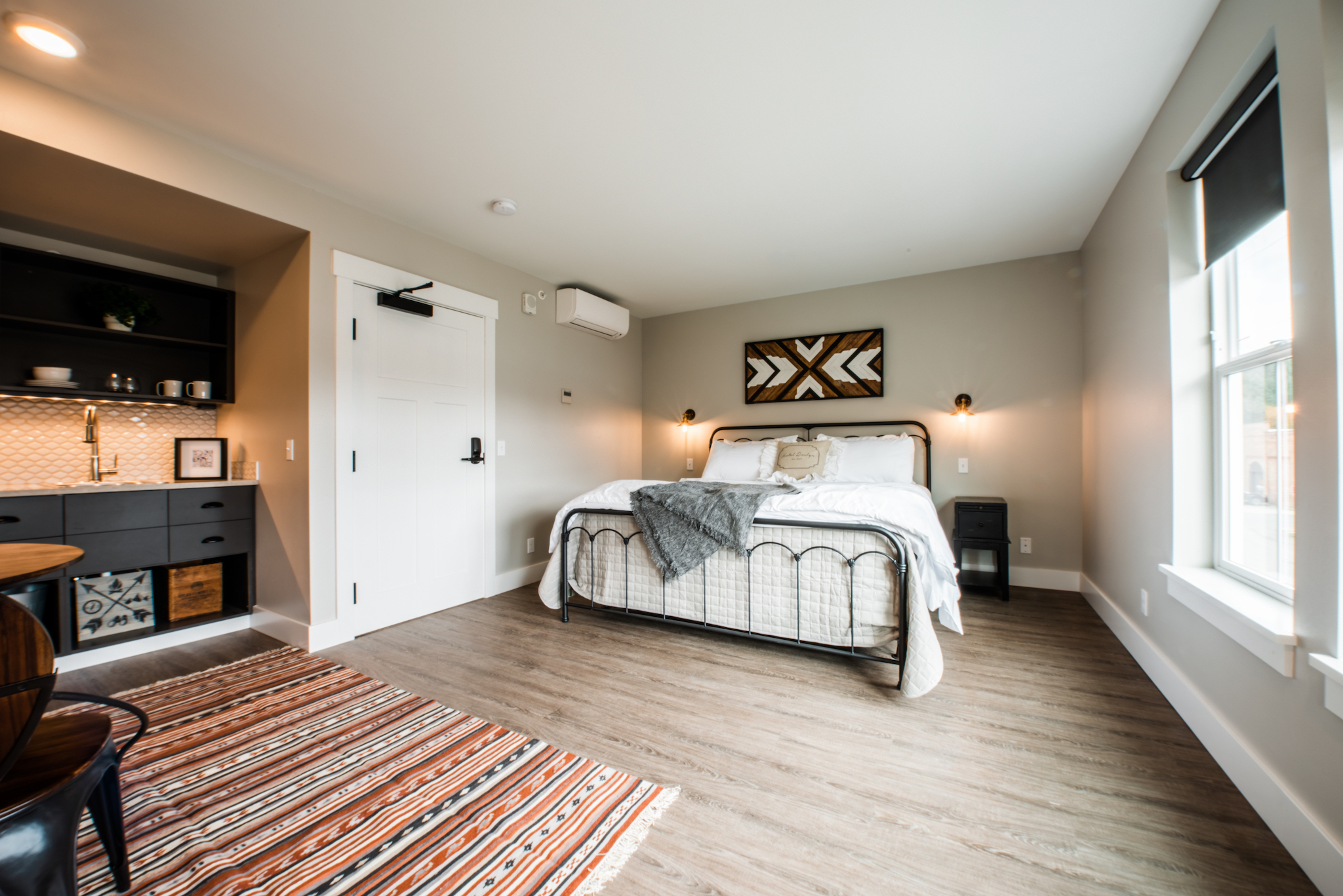 You can either make a reservation directly on this website by using the "book now" button. Or you can call our office at 509-649-3852 between 9am and 6pm daily and our staff will be glad to help you.
---
Why is payment due in full prior to arrival?
---
At Hotel Roslyn, each condo style unit features it's own private entry with keypad. After full payment is made (within 48 hours of arrival) you will recieve the custom entry code to your unit to eliminate a tedious check in processes for our guests. Because you will have the code before you even arrive, it's required to collect payment in advance.
---
Is booking online secure?
---
We implement a variety of security measures to maintain the safety of your personal information when you make a reservation. We offer the use of a secure server. All supplied sensitive/credit information is transmitted via Secure Socket Layer (SSL) technology and then encrypted into our payment gateway providers database. It will only be accessible by those authorized with special rights to such systems. They are required to keep the information confidential. After a transaction, your private information (credit cards, social security numbers, financials, etc.) will not be stored on our servers.

---
Where can I park for my overnite stay?
---
There is on street parking available along Washington street. We offer free parking at the rear of the building, accessible from the alley behind our building. These spaces are limited and will not accomodate large vehicles or vehicles pulling a trailer.
---
Cancellation Policy?
---
Reservations booked directly with Hotel Roslyn via website, phone call or in person are subject to the following:
Notice of cancellation must be given 2 days prior to the scheduled arrival date by 3:00 p.m. Late cancellations will result in a charge 30% of the full reservation, including taxes.

Please check your driving routes ahead of time, as road closures/detours do not change our cancellation policy.

3rd Party Reservations: If reservation was secured through a booking agency and not directly with Hotel Roslyn you must make all changes including cancellations with that booking agency directly and within their allowable time-frame. All late cancellations will result in a charge for the full reservation, including taxes. This includes, but is not limited to, reservations made through Booking.com, Expedia, VRBO & AirBnB. Hotel Roslyn is not authorized to cancel or modify these reservations.
---
---